Reactive export compliance programs aren't viable. Successful operations proactively implement and execute robust and comprehensive strategies. At Star USA, we provide top-tier export compliance training & consulting, as well as comprehensive solutions to navigate regulatory requirements, manage your export footprint, and maximize global opportunities.
Clients trust our international trade experts to help with:
Correcting Course on International Trade Compliance
Maintaining Efficient, Functional and Compliant International Operations
Export Compliance Training Services Include:
HTS & ECCN Classification
Star USA's export compliance training & consulting services include fully-managed HTS Classification programs for export compliance.These include import, export, and free trade agreement services on an ad-hoc, broadscale, or ongoing support basis. Classification services are provided by our international trade experts, who assist with CROSS Rulings, system updates, and record-keeping.

Denied Party Screening
Don't gamble with your export privileges thinking one-screening-size-fits-all. Denied party screening is the process used to identify whether any parties to the transaction can be found on national and international government watch lists. Star USA offers smarter screening with a plan that incorporates the Best Practices factors tailored to fit your operational needs.
Export Licenses
Need an export license for your product? The U.S. government leaves it to exporters to know. They are required to exercise due diligence to find out and, if so, take initiative to obtain one. Star USA makes complicated processes easy to understand - and execute. Relying on decades of export experience, we'll work to determine if you need a license and, if so, facilitate the process of helping you attain one.

Duty Drawback
Are you eligible for a portion of the $2 billion in U.S. Customs refunds that go unclaimed each year? Duty drawbacks are customs refunds for duties, fees, and taxes paid on import items later matched with those exported or destroyed. Star USA researches your duty drawback eligibility and helps manage longer-term plans to keep tabs on what you're owed each year.

Free Trade Agreements
Free Trade Agreements are intended to help companies enter and compete in global markets by reducing trade barriers and red tape. Roughly half of all U.S. exports are purchased by free trade partners. However, taking full advantage of free trade agreements requires full understanding of every intricacy as well as quick responsiveness to changes. Star USA provides free trade agreement support & management for firms of all sizes in all industries.

Internal Audit
Internal export compliance audits are an efficient means to assess whether your organization's controls are correct and sufficient. Audits can also uncover limitations and vulnerabilities in your current system, which allows you to correct them before they snowball into bigger issues with regulatory authorities. Star USA's trained auditors can help define and customize the internal audit processes - to be ultimately carried out internally or administered by our qualified team.
INCOTERMS® 2020
Expert guidance when buying and selling internationally.
8 Key Elements of an Export Compliance Program (ECP)
1. Management Commitment
Strong, continuous senior Management Commitment helps companies build & maintain an effective export compliance program. Achieving this requires sufficient resources, support of export compliance training & consulting sessions, and public support of export compliance policies and procedures.
2. Risk Assessment
Identify and mitigate potential vulnerabilities with frequent Risk Assessments. Export compliance risk assessments are important, systematic reviews that examine the practices of the entire enterprise - or a specific department/process - to discover actual or potential gaps, which can then be remedied.
3. Export Authorization
Export Authorization procedures on jurisdiction, classification, licensing, and screening should be written and implemented. This vital step prevents export of unauthorized goods - and minimizes the risk of hefty export penalties.
4. Recordkeeping
Recordkeeping helps ensure your export compliance procedures align with the requirements outlined in 15 CFR 762.2. These records include things like export control documents, contracts, invitations to bid, books of account, financial records, restrictive trade practice or boycott documents, notification of any BIS application outcome, etc.
5. Training
Organizations should require Training on Export Controls to all employees who directly or indirectly are responsible for export operations and processes. Export regulations are constantly changing, and it's important for your team to understand what's required to stay in compliance. Star USA offers export control training.
6. Audits
Regular Audits on your export practices are a vital part of any comprehensive export compliance program. Export compliance audits can help you gauge the sufficiency of internal procedures and policies and identify potential vulnerabilities that require action.
7. Handling Export Violations & Taking Corrective Action.
Key to an effective export compliance program is promptly handling export compliance violations and taking appropriate corrective action. Doing so requires early detection and action, internal and external reporting procedures, and supportive senior management.
8. Build & Maintain an Export Compliance Manual.
An export compliance manual starts with an effective Export Compliance Program (ECP) that takes into account the specific size, needs, and goals of your organization. It should be easy-to-understand and follow, capture day-to-day operations and procedures, subject to annual review and update. Star USA can help both with building and maintenance of an ECP.
Complimentary Consultation
Contact us today to schedule a complimentary 30-minute consultation. This opportunity creates a space for you to ask important questions and learn from our experts & industry veterans. During the consultation we'll learn more about your operations, listen to your concerns, and provide useful answers to your questions. Let us help you maximize the return on your global trade compliance program investment and continue to be a leader in your industry.
Partnering with Star comes with access to decades of real-world knowledge & experience to anticipate, diagnose and solve issues relating to the customs clearance and global delivery of imported/exported merchandise.
Star maintains a deep understanding of the complexities of our clients' needs and risk profiles. Our compliance services are aligned to your needs and, most importantly, assembled to address those needs comprehensively.
Star USA acts on your behalf as your highly skilled and experienced employees providing comprehensive solutions to navigate regulatory requirements, manage your import/export footprint, and maximize your global opportunities.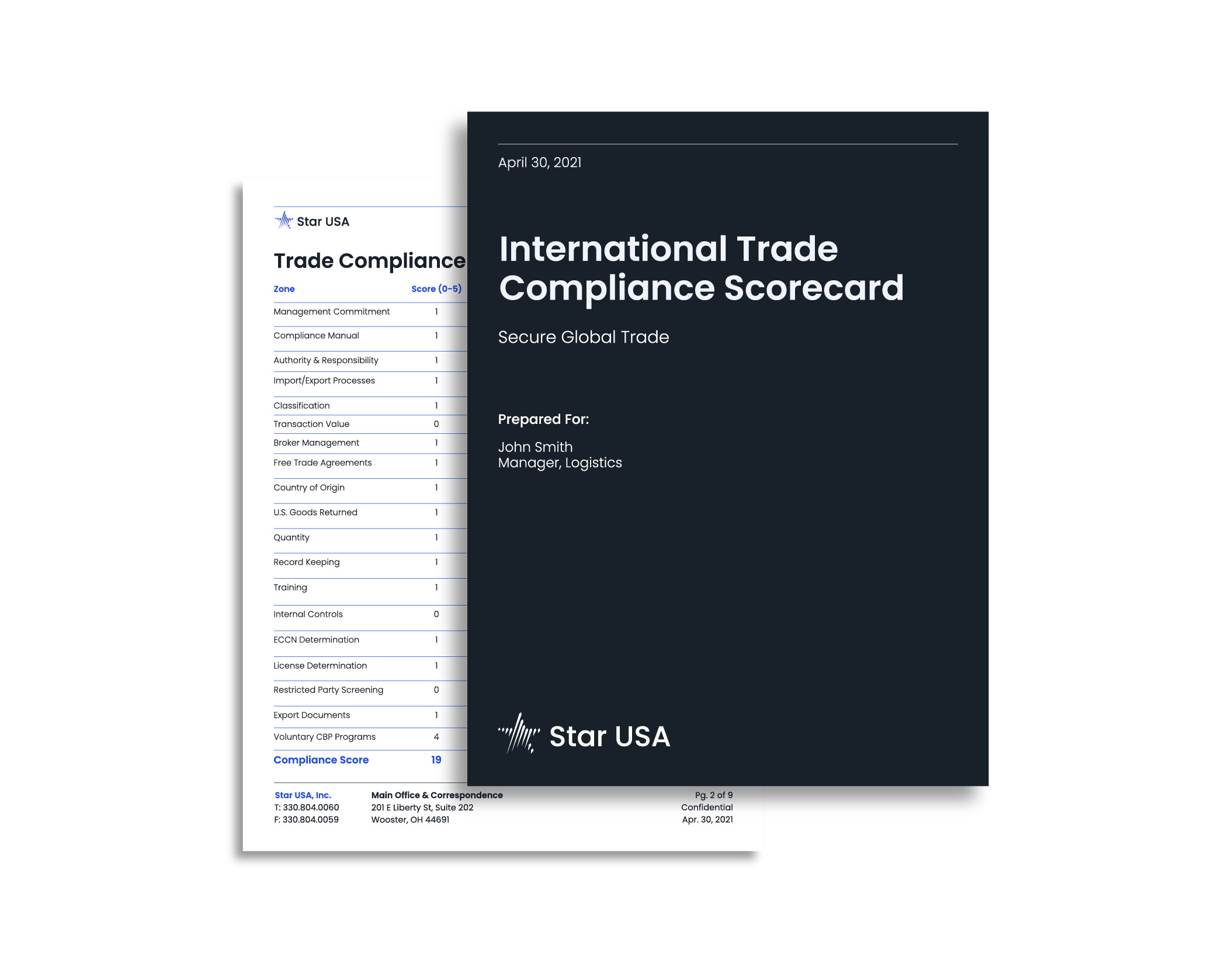 Discover your compliance score.